WHAT IS YOUR NAME AND JOB TITLE?
Matt Harton – Head of Production
WHERE DID YOU GROW UP AND HOW DID YOU END UP IN FORT WORTH?
I grew up in Dallas and spent the first part of my career working in Los Angeles. I moved back to Dallas to work at Red Productions.
TELL US A LITTLE BIT ABOUT YOUR FAMILY…
I have a wife, son, daughter & dog. 🙂
WHAT IS SOMETHING YOU LOVE?
Other than my family? I love seeing movies in the theater.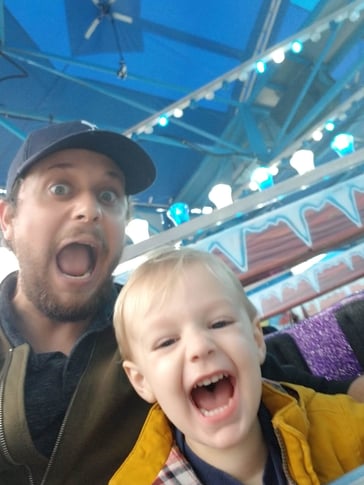 WHAT IS SOMETHING THAT SCARES YOU?
Rollercoasters & Turbulence
HOW DID YOU END UP AT RED PRODUCTIONS? AND HOW LONG HAVE YOU BEEN WORKING HERE FOR?
I went to high school with Sam and when they had an opening that made sense, which was Line Producer at the time, I applied. I've been working here since October 2013.
WHAT DO YOU LOVE TO DO OUTSIDE OF WORK? ANY HOBBIES?
I have a plot in a Community Garden that feeds into the North Texas Food Bank.
WHAT ARE SOME FUN/INTERESTING/WEIRD FACTS ABOUT YOU OR YOUR LIFE?
I have the best taste in movies, tv, content, etc. out of anybody in the office.
BORN AND RAISED IN DALLAS, MATT WORKED IN LOS ANGELES FROM 2004 – 2013 WORKING IN PRODUCTION BOTH FOR COMMERCIALS AND FEATURE FILMS. HE'S LINE PRODUCED MANY GREAT PROJECTS FOR BRANDS LIKE REEBOK, TARGET, EQUINOX, NIKE AND EVERLAST.