WHAT IS YOUR NAME AND JOB TITLE?
Alyssa Vaught – Creative Producer
WHERE DID YOU GROW UP AND HOW DID YOU END UP IN FORT WORTH?
Born and raised Fort Worthian
TELL US A LITTLE BIT ABOUT YOUR FAMILY…
I live with three dogs and my really awesome husband Sean. Most of our family lives in the DFW area, so even our extended family feels like immediate family. Our "small family gatherings" are about 50 people.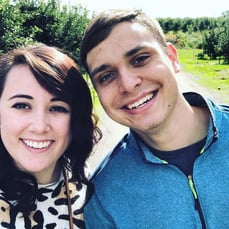 WHAT IS SOMETHING YOU LOVE?
I love dogs, good content, and spending time with the people I care about.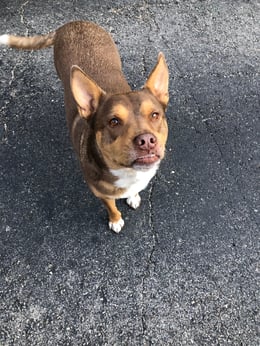 WHAT IS SOMETHING THAT SCARES YOU?
I can't stand horror movies… especially those that deal with demons or the paranormal. No thank you.
HOW DID YOU END UP AT RED PRODUCTIONS? AND HOW LONG HAVE YOU BEEN WORKING HERE FOR?
I worked on a short documentary in college and quickly caught the film/video bug. Hard work and a series of fortunate events landed me at Red Productions about a year and a half ago and now they can't get rid of me.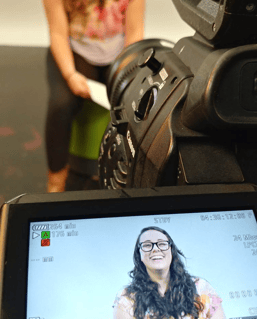 WHAT DO YOU LOVE TO DO OUTSIDE OF WORK? ANY HOBBIES?
I volunteer for an organization called The Love Pit.
TLP is a non-profit organization dedicated to ending the homeless pit bull population in DFW and re-educating the public about the breed. I help manage our social media and am currently in the process of convincing my husband to let me foster a dog.
I love taking walks and sometimes doing yoga, but mostly we watch tv and sit in the backyard throwing the tennis ball for our dogs.
WHAT ARE SOME FUN/INTERESTING/WEIRD FACTS ABOUT YOU OR YOUR LIFE?
I was my high school mascot
I used to live on a ranch
I lived in London for a summer
I interned at the Cannes Film Fest
Alyssa keeps it real. As Creative Producer, Alyssa enjoys tackling creative challenges and ensuring that clients not only have their video needs met, but their expectations exceeded and enjoy the production process. She is a Texas Christian University alumna with a degree in English History.