WHAT IS YOUR NAME AND JOB TITLE?
Scott Nichols – Executive Producer
WHERE DID YOU GROW UP AND HOW DID YOU END UP IN FORT WORTH?
I grew up in a small town in the Texas Panhandle called Panhandle, Texas — it's a community of about 2,000 people 30 miles East of Amarillo. I went to TCU for college and stuck around after I graduated.
TELL US A LITTLE BIT ABOUT YOUR FAMILY
I'm the direct descendant of a famous pirate named Arsene LeBleu. I have an amazing wife who spoils our dog so much it's kind of a problem.
WHAT IS SOMETHING YOU LOVE?
My dog and my wife (in no particular order)
WHAT IS SOMETHING THAT SCARES YOU?
Quicksand
HOW DID YOU END UP AT RED PRODUCTIONS? AND HOW LONG HAVE YOU BEEN WORKING HERE FOR?
Been here since 2011. I worked in an advertising agency before moving to Red Productions. I fell in love with production at the agency and wanted it to be my full time job.
WHAT DO YOU LOVE TO DO OUTSIDE OF WORK? ANY HOBBIES?
I watch a lot of sports and travel every chance I get. My wife and I are trying to visit every Major League Ballpark in America — we've knocked out around 10 or 12 I think.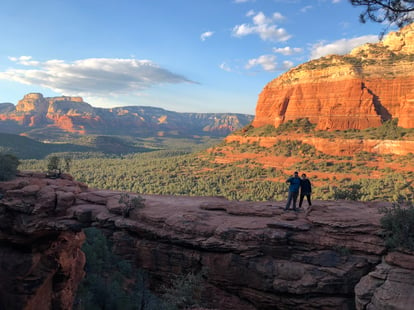 WHAT ARE SOME FUN/INTERESTING/WEIRD FACTS ABOUT YOU OR YOUR LIFE?
I can say words backward as quickly as I can say them forward. I can't whistle. I won the 1996 Carson County Talent Show with my rendition of Beethoven's Fifth on Piano. I beat out one other kid and one 45-year-old Elvis impersonator.
FOR THE PAST 11 YEARS, SCOTT HAS BEEN HELPING CLIENTS CREATE REMARKABLE CREATIVE WORK. PART STRATEGIST, PART MAGICIAN, SCOTT HELPS OUR CLIENTS NAVIGATE THE VIDEO PRODUCTION PROCESS AND EVEN MAKES IT ENJOYABLE TOO! SCOTT HAS EXTENSIVE PRODUCTION AND DIGITAL MARKETING EXPERIENCE, ADVISING OUR CLIENTS HOW TO GET THE MOST VIEWERSHIP OUT OF THEIR PRODUCTION DOLLARS.